Author: Autumn
You are all familiar with Nancy Myers – right? She was the writer/director of "Something's Gotta Give", "The Holiday", and "It's Complicated", among others. We, here in blogland, have discussed and obsessed over her movie homes for years.
Well, today we can be maybe a degree closer to her. On Tuesday I introduced you to the book by baker David Lebovitz titled
The Sweet Life in Paris

. In that book he revealed that he and Nancy Myers have formed a friendship, and she shared her fudge sauce recipe with him.
Giving full credit to both of them, I am going to share her recipe with you today, and it is so easy and tasty. Here goes….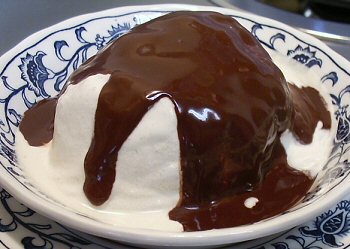 HOT FUDGE SAUCE
3 tablespoons unsalted butter, cut into small pieces
1/3 cup sugar
1/3 cup packed dark brown sugar
1/2 cup unsweetened cocoa powder
1/3 cup heavy cream
Pinch of salt
In Nancy's words, all you do is toss it all in a pan, stir, and eat immediately. Just remember to cook it over a low heat.
Take care and have a good week-end.