Authors: Autumn and Spring
Greetings from both of The 2 Seasons. We have published over 100 posts, and yet, this is the first one we have written together.
We are also thrilled that we were a featured blog at Wow Us Wednesdays at Savvy Southern Style. Many bloggers participate in this gathering every week, and only a few are featured. This week, however, we made the cut. Yippee!!
The recipe we are sharing is perfect for this upcoming week-end and has been a long-time family favorite. It is a make-ahead dessert that you can put together in the morning before you start your holiday activities. Then, after your cook-out, it will be ready and waiting in the frig. For our busy readers, we have an easy recipe, and for those of you who like to cook from scratch, we offer that version, too. So, here goes. Jordan's (Spring's) version will be first. She is writing from Syracuse, NY, and I am in Lexington, KY.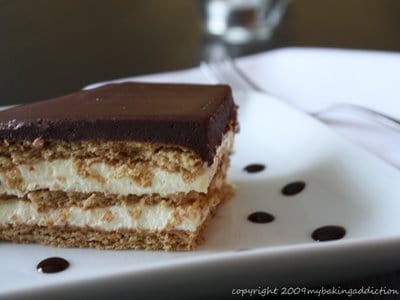 EASY ECLAIR CAKE
1 box graham crackers
2 3 1/4 ounce boxes instant French vanilla pudding
3 1/2 cups milk
1 8 ounce container whipped topping
1 can chocolate frosting
Butter or spray a 9 x 13 inch pan. Line the bottom with whole graham crackers.
In a mixing bowl, combine milk with the 2 packages of pudding. When it is thick, fold in the container of whipped topping.
Spread half of this mixture on the graham crackers.
Top with another layer of crackers and then spread the remaining pudding mixture.
Top with the last layer of crackers.
Spread the frosting over the graham crackers. Cover and refrigerate for at least two hours. It will be ready to serve when the graham crackers have softened.

ECLAIR CAKE FROM SCRATCH
1 box graham crackers
Butter or spray a 9 x 13 pan. Line the bottom with graham crackers. (You can make the graham crackers if you are really industrious).
VANILLA PUDDING
3/4 cups sugar
3 tablespoons corn starch
Gradually stir in 2 cups milk, mixing well. Cook and stir over medium heat till it boils. Cook 1 minute longer and remove from heat.
Stir small amount of hot pudding into 3 slightly beaten egg yolks. Immediately return to hot mixture and cook 2 minutes longer, constantly stirring.
Remove from heat and add 2 tablespoons butter and 1 teaspoon vanilla.
Let cool.
Meanwhile, whip 1 pint whipping cream, with 1 /3 cup sugar added, till stiff. Fold into cooled pudding.
Spread half of this mixture onto the graham crackers. Top with another layer of crackers and repeat. Top with the final layer of graham crackers.
FROSTING
2 3/4 cups powdered sugar
6 tablespoons unsweetened cocoa powder
6 tablespoons butter, softened
5 tablespoons milk
1 teaspoon vanilla
Combine and mix with an electric mixer till fluffy.
Spread on top of the final layer of graham crackers. Cover with foil and refrigerate at least 2 hours or till crackers are softened.
Enjoy!
Cheers! and Take care!
Images from www.mybakingaddiction.com and www.bakingjunkie.com