Jordan and I decided that a perfect way to celebrate Valentine's Day on our blog is to feature our spin on one or two projects each day that John and Sherry Petersik developed for their bookYoung House Love (available

here

) . Afterall, it's all about the love, right? And we're here to spread it around. So welcome to "The 2 Seasons Celebrate Young House Love Week."
Welcome to Day 4 of our week long project. You can see days one,two, and three here, here, and here. Today we are featuring

Project Number 127 – Make 3-D Art With Tissue Paper

. We have put a spin on the art work that Sherry and John created with tissue paper, though. Yes, we used paper, but we used paper we tore from magazines. And to make it even more interesting, we made it monochromatic – sort of. You'll see….
First, I'll share the final product with you. Not bad, huh????? Okay, now I'll share the secret behind this original art.
Blue is my favorite color so for several evenings while I watched my housewives on television, I cut any piece of blue that I could find in my magazines and catalogs. They didn't even have to be the same blue as you can see. The paper scraps just had to be a variation of blue.
Then I bought a 24 by 36 inch canvas at Hobby Lobby and began my creation.
All I did was spray a section of the canvas with adhesive and then press on a piece of paper. I purposely mixed them up, but you could keep like colors together, etc. Also, you could make this project with your own favorite color. Just let me warn you that it takes a lot of paper scraps, so start saving your old magazines now. After the canvas was full, I applied four coats of Mod Podge. The paper did pucker up a little in places, but I just figured that it was additional texture. I let the Mod Podge dry well between each coat.
I didn't have a frame, but I did have this poster left over from our son's recently sold townhouse. Since it was all heaped in the donation pile, I removed the frame and painted it white with my Annie Sloan chalk paint. Actually, it is an antique white. After applying two coats of paint to the frame and letting it dry, I attached the canvas to it.
I placed the project on an antique dresser, which was our first ever piece of furniture as newlyweds, in the basement. It is at the bottom of the steps, and is a nice, bright addition to the windowless room.
When people first see it, they have no idea what it is. They know I am taking oil painting classes and think I painted some contemporary art.
I haven't even begun to decorate our basement area yet. It is just a hodge-podge of leftover furniture. But looking at this little change to the room might just be the incentive I need to start that decorating project. Afterall, the basement right now is a blank canvas, and we now know I like to take on a blank canvas.
*****
Thanks John and Sherry for the inspiration that gave me the push to try this project. It's not really free art, but it sure was inexpensive. How about you? Do you have any magazines waiting around for you and your scissors?
Take care.
Linking to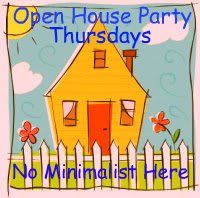 and shabbycreekcottage