When we registered for our everyday china, we selected a white pattern by Lenox. We liked it (and still do) because food looks better on white plates, and you can mix it up by adding so many other colors with napkins, placemats, table cloths, etc.
Last year I came up with an idea of how to make them be even more colorful but still be practical (here). I changed up the look by buying clear salad/dessert plates at Ikea for around $1.00 each and then made mini-chargers out of different colors of scrap book paper. And guess what!!! I am at it again.
I thought by using left over wrapping paper that I have on hand from last year, I could make some more mini-chargers and have an almost free new look for this Christmas season. I chose this cute paper with the snow boys.

All I needed to do was use the bottom of a bowl as my template and trace around it to get the circles in the right size.

I traced the bowl and then cut out the circles.

Then I just placed them between the salad plate and the dinner plate. The last time I did this project, I laminated them, but I skipped that step this year. They are so easy to make that I'll just toss them when the meals are over. The turquoise placemat pulls out that color in the charger.

Here is another mini holiday charger made from some other left over Christmas paper I had from last year.

This time I made place mats and mini-chargers with more leftovers. Again, the place mats would be great laminated. Hmmmm, all of a sudden I'm hungry for a candy cane.
Click here to like The 2 Seasons on Facebook.
Cheers!
Linking to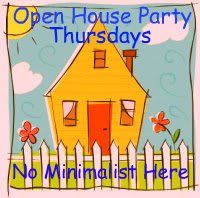 and Between Naps on the Porch