Before I get to today's topic, I want to share an iphone photo of Jordan and her happy family. I guess I could call them "Happy Campers" because that's how they spend their summer week-ends in upstate New York. And, yes, that's Gracie in the kayak, and yes, she is wearing a life preserver.
Also, we are looking for

five guest bloggers

to share one of your favorite kitchen blogs with our readers. We will be running a guest blogger week in September. Please email us if you are interested. Now, on to business, and unfortunately, we are not being paid to share this info with you.

Have you had problems getting your dishwasher to dry the dishes thoroughly at the end of the cycle? Well, we did, and our Thermador dishwasher was less than a year old. When I called to schedule a service call, the scheduler asked me if I was using Finish Jet-Dry in the dishwasher. I was not.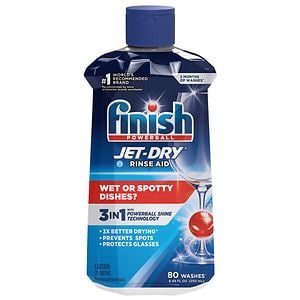 I bought a bottle, and immediately the dishes were all perfectly dry at the end of the drying cycle plus the inside of the machine was dry. Since then, I have heard from lots of friends that they, too, were having problems with their dishwashers not drying. Apparently, the newer models need this rinse agent for them to dry properly.
So, if you are having trouble with your dishwasher not drying, add some Finish Jet-Dry or a generic equivalent before you waste money on an unnecessary service call.
*****
Take care.
Images by Josie Swantek, Thermador, Finish Jet-Dry, and Google