Yes, I'm brewing something. It's not moonshine, although I do live in Kentucky where I could probably hunt down a recipe for it in about five minutes flat. And, no, I'm not brewing beer. Coffee? Nope, I'm not a coffee drinker.
It's the vanilla extract!! A few weeks ago I wrote about receiving some vanilla beans in the mail from Beanilla, and I took you through the process of getting it started. Well, today I thought it was time to give you a peak at its progress. It has been hidden away in a cabinet in our pantry, and I have been religiously and gently shaking it.
It is far from being done, but it is looking a lot more like vanilla extract than it did when I first introduced the vodka to the vanilla beans.
This is the "getting to know you stage" when I first put the two together. I put them beside the cookies so they could see what they could become if they get along and play nicely with each other.
They've been dating for three weeks now and are feeling comfortable with each other. It is pretty evident to me that it will al be "A Go" by Thanksgiving, and I'll be using my homemade vanilla when baking the holiday goodies.
Meanwhile, Jordan has been busy traveling for work and hasn't had the chance to get her vanilla started yet. But, that's okay. She still has plenty of time for it to brew before the holidays. (Yikes, I can't believe I'm thinking about the holidays)!!!
*****
Take care.
The vanilla beans were provided, but we were not paid to write this post.
Linking to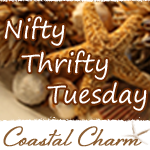 Take care.