Last year after we had our house painted, I decided to paint our front door a bright red. You can read about the painting of our house here. My neighbor suggested also painting our storm door to make it pop even more. Her storm door is painted, and it looks amazing, so I decided to go for it.

Even though our front door looked great, as you can see here, it needed something more.

Here is a close up. (Sorry for the glare).
My first step was to wash the metal part of the door with warm water and soap. I realized as I started washing the door that a bees nest was up in the light right beside the door. Whoops!!! That made me a little nervous.

Once I cleaned the door, I taped around the edges. I am sure you can do this without taping, but in the long run it is easier for me to take the time to tape. Gracie, whom you can see through the door, brought a toy and stayed there the whole time watching the process go down.
After taping the door I applied Kilz premium primer. I had some extra, and after reading the directions on the can, I decided it would work great.

After priming, I painted the first of what would end up being four coats. It was a very fast process, and the paint dried quickly. It was a strange weather day in Syracuse – almost 80 degrees – so it was a good day to do this project.
Overall I am really happy with the extra pop the painted storm door gave our home. Now you can see from the photos that we have started our front lawn landscaping. Stay tuned for after shots. We still have a lot more ivy to pull up, but we are making progress.

Here is the before again.

This was a easy and cost efficient way to add more curb appeal to the house. We have been talking about adding brick steps and eliminating the concrete ones we now have. Also, getting rid of the metal railing would emphasize the house's craftsman style even more. But it is important for us DIYers to concentrate on one thing at a time. And now I can check "paint the storm door" off of our to-do list.
Cheers!
Linking to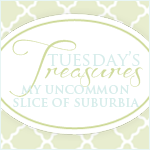 http://myuncommonsliceofsuburbia.com/