I dont' know about you, but I love learning about and reading about the British royal family. So, it is an understatement to say I was excited when I learned about a new book about Queen Elizabeth. The book, written by Sally Bedell Smith, a New York Times reporter was released in January. With the upcoming celebration of Elizabeth's sixtieth year on the throne, it is one of many books being written about the lady. I really enjoyed the book and give it two thumbs up.
I downloaded the book before we went to Argentina and found myself reading it every spare minute. I loved 99 per cent of the book. It was very objective, and her extensive bibliography lets us readers know that the author certainly did her research.
The only parts of the book that I really didn't get into were the prime ministers. Don't get me wrong. I enjoyed reading about Winston Churchill, Margaret Thatcher, and Tony Blair, and their relationships with the Queen. But there have been a lot more prime ministers than those three, and I just couldn't get into all of them.
When she was a young girl, Elizabeth was considered a "hot babe." She had/has a great sense of humor, is very involved in her country's behind the scenes events, is very aware of her image and her country's image, takes her job and her title very seriously, and has no intention of stepping down to make way for her son, Prince Charles.
She is very keen on staying current and has her own website (here). She also selects her public clothing with the purpose of being easily seen in a crowd. She does her own make-up (no surprise here), and when she is staying at one of her country estates, she dresses very casually. She wears an Hermes scarf , rather than a helmet, when riding her horses, despite much begging from her staff to take safety precautions. She is The Queen, after all.
Jordan and I visited Windsor Castle during a long week-end we spent in England a few years ago. That was a thrill. It was a real treat to see her exquisite art. And all of you lovers of dishes out there would really enjoy this tour. The Queen has tons of dishes, and they are beautiful, well-kept, and very valuable.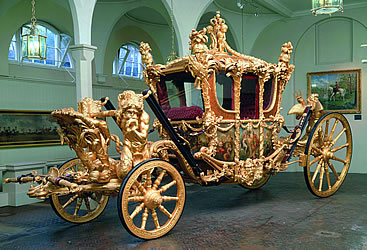 I visited Buckingham Palace in September, 2010 ( read about it here and here). Each year when the Queen and her family are away for the late summer vacation, the public rooms of the palace are open for tours. That, too, was a thrill. London was all abuzz with excitement about the upcoming wedding of William and his bride.
The tour included the mews, and I was able to see this carriage is made of gold. It is officially known as the Gold Coronation Coach, thank you very much…..It is only used when a queen or king is crowned and when they celebrate an anniversary of their reign. It weighs four tons and was built in the 1762. They have to take the wall off of the building to get it out!!!They only had one real horse at the Mews that day, just to keep us visitors happy. They did, however, have a bunch of stand-ins which appeared to be made of wax.
When Mr. Autumn and I spent three weeks that same year riding our bicycles from the bottom of England to the top of Scotland, I often asked locals in the pubs what they thought of their Queen. Every single one of the people I talked to said good things about her. Sometimes they threw in a little dig at Prince Charles, but they admire and respect Queen Elizabeth.
Take care.
*****
Linking to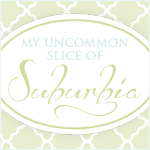 Images from www.eliteoftheworld.com, www.wondrouspics.com, www.upload.wikimedia.org, www.windsor-berkshire.co.uk, and www.bikeadventures.co.uk