Author: Spring
When we bought our house, we were not impressed at all with the curb appeal. We knew, though, we could change it and make it have some appeal.
Our realtor told us a house needs three colors to really make it pop. This is so true, and the houses that really stand out on our street do have three colors. We knew in the future we wanted to paint the house and front door, add shutters to the top floor, and add some window boxes. Well, we are finally able to check one of those things off the list – window boxes. I know it is not spring, but because of my crazy work schedule this summer, I did my window boxes a little late. But, hey, better late than never!
Before adding the boxes, we needed to do some cleaning up work on the front of the house. Most of our time had been spent on the patio/sod project in the back yard. Some huge bushes were really blocking the house, and some decorative grasses that weren't decorative any longer had gotten out of control. Currently, our front yard is all ivy with some random shrubs. In the future we plan to update the landscaping, and we will add grass to the front lawn.

You can see that the bushes are really blocking the house. We didn't know about this because we bought the house right before winter.

This is a good start. After we trimmed down the shrubs, we really noticed the ugly gray storm windows. We then removed them.
That cleared a space for the window boxes, so, I was ready to start. Since I was tardy to this party, all of the wooden black window boxes that I wanted were sold out. I went to many places but no luck. So, I had to make do with what was available – tan plastic window boxes.
But if I learned anything in blogland, it is to make do with what you have! Fool the eye! And by all means, just do it (yourself)! Since they were tan and I was hoping for black, I knew some black spray paint would do the trick. I bought Rust-oleum for Plastic. I think they now have spray paint for every type of surface out there, and I love it!

This was easy to use on the plastic window boxes.

Here is my setup for spraying down the boxes. You can see I used some of the rocks from our backyard to put the boxes on so they wouldn't stick to any surfaces. Then I sprayed away. This area looks messy in this picture, but yesterday I revealed what it looks like now. Go here.
Once I was finished spray painting and the boxes dried, I filled the box half full with packing peanuts.
The packing peanuts help take up room in the box without adding all the weight of the soil. I didn't know about this tip till my mom taught me.
The boxes did not come with brackets so we had to buy them separately. You can see we needed to make sure they were going to be level. Also, you can get a better look at the ugly storm windows.

It is starting to look a little better with some charm added. I got carried away trimming down the grass in the front, but we all know it will grow back.

The boxes are slowly starting to fill in and I am enjoying having some color on the front of the house. We love our little craftsman style house and are slowly making it ours.
The painters are coming next week, so be sure to check back to see the color we selected. I will just say this. It is not white.
Did you do window boxes this year? If so what did you plant in them I am trying to get more ideas for next year.
Cheers!
Linking to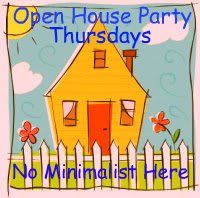 I was not paid by any products mentioned in this post.