Author: Spring
Nothing says cozy, inviting, nostalgia, and hints of days gone by like a gazebo. My parents were married under one almost 39 years ago, and their new townhouse is right across the street from a grand historic gazebo. My grandparents have one in their back yard that looks really good, but I'm not sure if they actually use it.
Mr. Spring and I have been busy working in the backyard of our bungalow, and we are having lots of fun – even though it is lots of work. He grew up in an apartment in NYC, and so this is all new for him. I got out of doing yard work while growing up in Kentucky because my big brother had that assignment. (We lived on ten acres amid horse farms, and he had to mow every single inch of it weekly during the summer. When he went to college, my parents sold the mini-farm, and we moved to town. Sorry, Cory).
But, let's get back to the topic. Even though our lawn is too small for one, I have been thinking about them while moving rocks, pulling weeds, and relocating plants. Enjoy these photos that I found.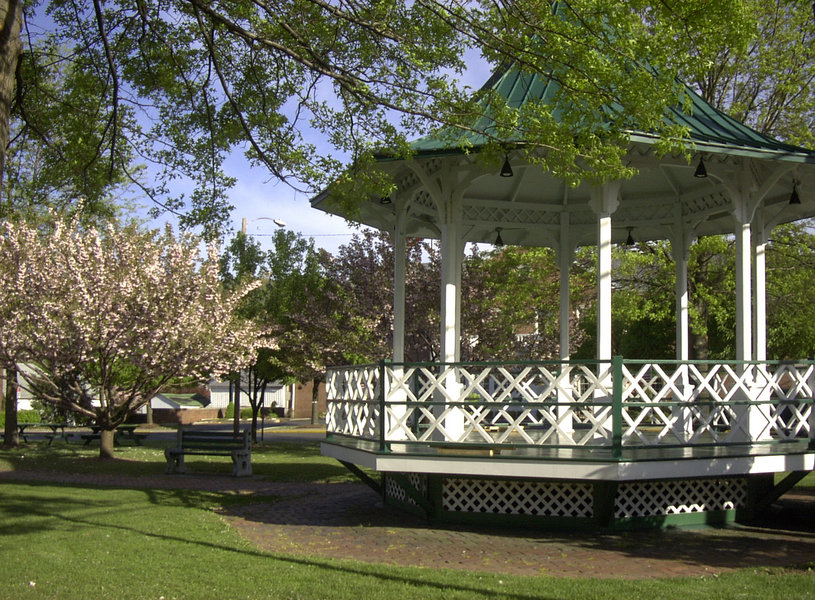 This beautiful gazebo is in Market Square in Millersburg, PA. (Photographer not known.)


I love the way the red roof on the gazebo matches the houses's roof. (Photo by Todd Adams)

Recognize this famous gazebo? It was used in "The Sound of Music." According to Google, this gazebo is closed to the public because too many people had accidents trying to dance in it. If you recall from the movie, it is where Liesl sang, "I am Sixteen, Going on Seventeen". (Photo from summerhouse.net)
This photo shows that Gazebos can be temporarily erected for a special occasion, like a wedding, summer party, or backyard horse show.!!! (Photo from summerhouse.net)
Even though it was way before my time, Google let me know there was a movie titled "The Gazebo", filmed in 1959 and starring Glenn Ford and Debbie Reynolds.
Although this is a modern wedding, the black and white photo and design of this Wisconsin gazebo make it look as if it took place early in the last century. (Photo from heritagehillgb.org)
Weren't those photos great? Hmmmm……Maybe our back yard isn't really too small, afterall.
Cheers